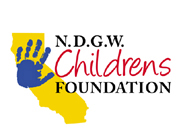 Often families find that the needs of their children, whether physical or material, exceed their financial means. When a child needs corrective lenses, hearing aids, speech therapy, braces, hospitalization, operations, costly medicines, nursing care, physical therapy, a wheelchair, a special campership, or other services or equipment the N.D.G.W. Childrens Foundation offers a helping hand with grants paid directly to the service providers. Three different types of grants: Individual, Organization, Campership.


Together we can raise money for NDGW Childrens Foundation without spending anything we wouldn't already be spending. And isn't that a gift in itself? It sure makes shopping more bearable to know that the store is giving part of my purchase back to help our cause. Click the Orange iGive button below to sign up. 
Services & Applications
All services must be administered within the State of California. Native Daughters Members, agencies, or individuals submit a confidential grant application along with a financial statement. An application is to be accompanied by a report from the doctor, hospital, or clinic which is to provide the services as well as the nature of the disability, the service needed and the cost thereof.
APPLICATIONS
Individuals: Due by the 5th of each month in which the Committee meets – January, March, May, July, September, November
Campership:

Due March 31st
For more information email the Case Manager Email: CFcasemanager@ndgw.org