SAN JOSE PARLOR NO. 81
Instituted June 30, 1894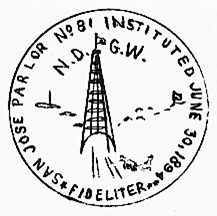 San Jose (Santa Clara County)
The Parlor was named after the town of San Jose, in which it was originally organized. The electric tower depicted on the Parlorís seal was built with funds raised by the townspeople and dedicated on December 13, 1881, as a tribute to the debut of electricity. The 237-foot tubular wrought iron tower was located in the center of town with the hope that it would light up the downtown area, and at its top hung six 4,000 candlepower arc lamps. On December 3, 1915, it collapsed in a blue flame. A replica of this tower, only 115 feet high, stands with other historical buildings on the grounds of History Park within Kelley Park in San Jose.
San Jose Parlor Members
San Jose Parlor ladies and gentlemen are an active, hard working group who care deeply about our Order, our Parlor and our Community. Over the years the Parlor Sisters have been not only active at the Parlor level but also very active at the State level of Native Daughters, having served or are currently serving on the Board of Directors or working diligently on various State committees as Chairmen or members.
San Jose Parlor works hard to enrich the lives of those in our community with various on-going projects such as the layette project for the Diocese of San Jose who distributes over 500 layettes throughout the year through Public Health nurses. We are looking forward to new ventures: Providing dinner to the families at JW House and volunteering our time and talents with Heart of the Valley Services for Seniors.
San Jose Parlor members work hard to raise funds for the various activities of the Order with donations going to many of the State committees, such as Veteranís Welfare, the Native Daughters of the Golden West Home, the Native Daughters Childrenís Foundation and with the Native Daughters of the Golden West Charitable Foundation.
Fun and hard work go hand-in-hand and our Parlor is no exception to that. We work hard and in doing so, enjoy each otherís company. Many social events are scattered throughout our calendar and often a fundraising event is a social event as well. For example: Bunco lunch/dinner parties, Slumber Party at the NDGW Home in San Francisco, Christmas party, parlor potluck lunches or dinners, and the Kentucky Derby Party.
We welcome new members at any time. If interested please contact our Recording Secretary.