Bonita Parlor No. 10 - Redwood City
Instituted May 11, 1887
San Mateo County
The Parlor's name, Bonita, means "pretty" in Spanish and was chosen for the area and the lovely and beautiful women who reside there.
The Parlor's seal shows a flag on the left which bears the letters PDFA and the American flag on the right. A large star in the center has the letters NDGW in its points., symbolizes "Sunny California," and the schooner is symbolic of ships which brought the redwood lumber into Redwood City.
100th Annual Redwood City 4th of July Parade: Bonita Parlor recreated the float we had in the parade 100 years ago. The Golden Mission Bell honors the Native Daughters tradition of marking California's historic El Camino Real. The float won third place!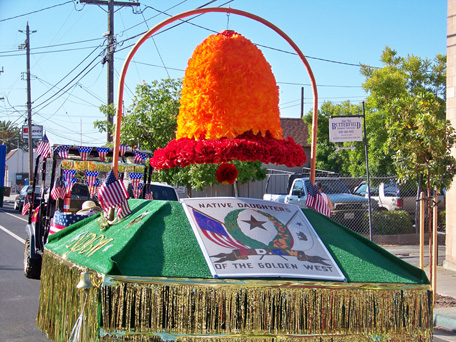 Parade participants from Bonita Parlor No. 10